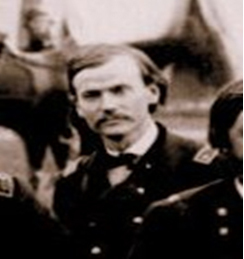 John Mendenhall was born in Indiana on July 29, 1829, descended from a Pennsylvania Quaker family who had received a land grant from William Penn. After entering the United States Military Academy in 1847, graduating in 1851, he served prior to the Civil War in Pennsylvania, Texas, New York, Kansas (Sioux Expedition), Fort Laramie in Dakota Territory,in Florida during the Seminole campaign, back to Kansas for the disturbances there, back to Fort Laramie, and then at Fort Monroe, VA at the Artillery School.
During the Civil War, having been promoted to Captain on 3 July 1861 and serving at the Artillery School at Fort Monroe, VA, he was assigned to command of Battery H & M, 4thUS Artillery in the Army of the Ohio from March through June 1862, being brevetted to Major, US Army, for gallant and meritorious service during the Battle of Shiloh in April 1862.
As this "first" Army of the Ohio became Army of the Cumberland, John Mendenhall again distinguished himself at the Battle of Stones River (aka Murfreesboro). On 2 Jan 1863, Mendenhall, as Chief of Artillery of the Army's left wing, assembled a grand battery of between 45 to 58 guns that repulsed the attack of the Confederate MG John C. Breckenridge (former VP under James Buchanan) upon the left wing,a key action in the battle. As this left wing later became the Army's XXI Corps, still under the command of MG Thomas L. Crittenden of Kentucky, now Major (USV, Adjutant Generals Corps)Mendenhall again distinguished himself during the battle of Chickamauga for which he was brevetted to Lt. Colonel, US Army for this action in September 1863.
After Chickamauga, John Mendenhall served first as Assistant Chief of Artillery, Army of the Cumberland, under BG Brannan, and then as Lt. Colonel Mendenhall, Assistant Inspector General of the Army of the Cumberland and accompanying MG George H. Thomas through the Atlanta Campaign. He served as Inspector of Artillery and Chief of the Artillery Reserve, Department of the Cumberland, and then Chief of Artillery of the Department of Tennessee to the end of the conflict, at which time he was brevetted to Colonel, US Army.
After the war, the again-Captain John Mendenhall served at a wide variety of garrison posts in the East and Midwest. While serving at Point San Diego (in San Francisco) in 1872, he was deployed to the Modoc Indian conflict in Spring 1873. After San Francisco, he was appointed commander, Department of Alaska in July, 1876 and then promoted to Major in January, 1877. After Alaska, he served in a variety of posts nationwide, was promoted to Lt. Colonel in October 1883, and then to Colonel in December 1888. In May 1889, he assumed regimental command of the 2nd US Artillery at Fort Adams, RI, a post he occupied until his death in July 1892, one year before what would have been his mandatory retirement age. John Mendenhall is buried at the cemetery at the United States Military Academy with his son, and one of his grandsons (also a graduate). Another grandson and USMA graduate, Colonel John Ross Mendenhall, is buried at Arlington National Cemetery, having been killed in action in New Guinea in January 1945.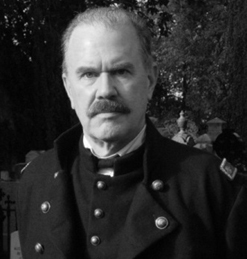 Frank Wood
Frank Wood hails from Philadelphia, where he graduated from Saint Joseph's Preparatory School and LaSalle College. Since serving nearly 14 years as an artillery officer in the United States Army, Frank has pursued a career in technology and is currently serving as director within a global telecommunications network equipment provider.
Frank had his defining exposure to Civil War history at Gettysburg. While stationed at Fort Dix, he was tasked by his battalion commander to coordinate a professional development class("staff ride") at Gettysburg for the unit officers and NCOs. As he executed a preparatory assignment of reading "The Killer Angels" by Michael Shaara, and then enjoyed the insights of the battlefield guide that day, the late Jay Luvaas, historian at the Army War College at the time, Frank experienced a renewed love for study of the period.
Frank's portrayal of John Mendenhall reflects a respect for that officer's key role in providing battlefield leadership at the artillery battery, corps, and army level within the western Army of the Cumberland. His use of "massed" artillery in action at Stones River and Chickamauga ran counter to the conventional thinking at the time and, in the case of Stones River, was actually pivotal to the battle. Frank chooses to portray John Mendenhall as a Major (prior to and during the Battle of Chickamauga), having served in that rank himself as an artilleryman.
Frank Wood can be contacted at [email protected].