Nathaniel Prentice Banks was born in Waltham, Massachusetts on January 30, 1816. He won a seat in the Massachusetts House of Representatives in 1849, becoming Speaker in 1851.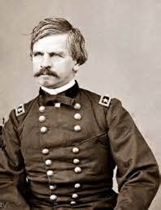 Banks then was elected into Congress in 1853 and became the first Republican Speaker of the House in 1856 and held that position until he ran for Governor of Massachusetts in 1858, which he held for two terms. In 1860, he ran against Abraham Lincoln in the Republican presidential primaries, but lost.
A year later, recognizing his political value, President Lincoln appointed him a major general of volunteers on May 16, 1861 so that he could deliver recruits and money to the Union cause, which Banks accomplished quite successfully. Later that month, Banks took command of the Department of Annapolis, tasked with quieting the secessionist riots and helping keep Maryland in the Union, both of which he achieved admirably.
Banks assumed command of the Department of the Shenandoah in July of 1861. He had several battles with Confederate Gen "Stonewall" Jackson that year, winning some and losing others, but was successful in keeping Jackson away from Washington City. After a horse accident, Banks was reassigned to Washington City to recover and take Command of the II Corps of the Army of Virginia to oversee the defense of the Capitol.
In December 1862, Banks took over as the Commander of the Dept of the Gulf and was charged with planting the Union flag in Texas to secure the cotton-growing land for the Union. Banks favored entering Texas along the coast using the Navy and had secured a foothold in the Republic in 1863; however, his superior, Gen Halleck pressured him into abandoning his plan and enter Texas via the Red River. Against his better judgement, Banks went north up the Red River supported by Admiral David Porter's fleet of Union gunboats. By March 1864, the small Union Fleet under Porter and Banks had taken Fort DeRussy and occupied Alexandria, Louisiana. The retreating Confederate troops under the command of Maj Gen Richard Taylor halted at Mansfield and posted his troops in good defensive positions. Taylor's Army defeated Banks' army at the Battle of Mansfield and would fight the Union Army to a strategic draw the following day at the Battle of Pleasant Hill. Short of water and feed for his men and horses, not knowing where his supply boats were, believing Taylor's forces to be much stronger than they were, and receiving divided opinions from his senior commanders, Banks ordered a retreat back down the river. However, the Red River had not risen to its usual depth as anticipated and Banks authorized the construction of dams which eventually made it possible for the fleet to escape capture or destruction. While they were successful at getting most of the flotilla below the rapids to safety, the Red River campaign ended in a Union failure and was General Bank's last active command.
In May 1864, Gen Grant ordered Maj Gen Canby to assume command of military forces in the region while Banks remained in control of the occupation of Louisiana in a purely administrative capacity and bringing the state back into the Union. He left military service in August 1865 where he returned to Congress and served as an advocate of women's suffrage, westward expansion, and the purchase of Alaska. Banks died in his childhood town of Waltham on September 1, 1894 and was buried in the town's Grove Hill Cemetery.
Lt Colonel (ret.) Stephen A. Caton, United States Air Force
Lt Col Caton was raised outside Rochester, New York and remembers fondly his summer trips to Gettysburg with his family.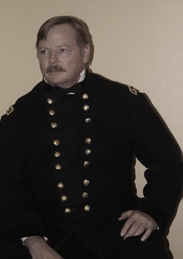 He entered the US Air Force in 1975 after graduating high school and became a Strategic Air Command security policeman stationed at Andersen AFB, Guam and Plattsburgh AFB, NY. He separated from the service in 1979 and attended college at SUNY Cortland in Central New York using the GI Bill. In 1984 he re-entered the service and became a C-130 aircraft navigator for the AF Reserve at Niagara Falls Air Reserve Station. In 2000, he went on active Air Force duty and navigated combat search and rescue HC-130s for five years at Moody AFB, GA. He accepted a full-time position with the Delaware Air National Guard in 2005 and finished his Air Force career as the International Affairs Branch Chief at Air National Guard headquarters at Andrews AFB from 2009-12. He retired as a decorated Lt Colonel in February 2013 having deployed to Desert Storm, twice to Kuwait for Operation Southern Watch, and served five deployments to Afghanistan after the September 2001 terrorist attacks.
Stephen joined COUG in March 2014. In August of 2019, he married fellow COUG member, Dr. Amanda Silva, who portrays Lily Devereux-Blake, a Civil War journalist, and they are both currently professors at Alfred State College in Western New York.
Stephen Caton can be contacted at [email protected].