Colonel, U.S. Volunteers, Commanding Officer, 4th Pennsylvania Volunteer Infantry and 51st Pennsylvania Volunteer Infantry (P.V.I.).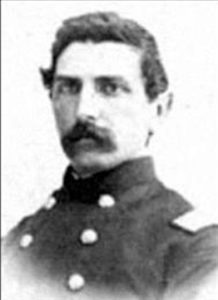 John Hartranft, a native of Montgomery County, Pennsylvania, graduated from Union College in 1853 and was admitted to the Montgomery County Bar in 1860. In April 1861, he took command of the 4th P.V.I. (a 90-day unit) that refused to fight at the First Battle of Bull Run (Manassas) on July 21, 1861, their 90-days having expired. Hartranft remained and participated in the battle as a volunteer aide in Colonel Franklin's brigade. In 1886, he was awarded the Medal of Honor for his valiant conduct during the battle. In September 1861, he took command of the 51st P.V.I. (a 3-year unit) which participated in numerous battles with the Ninth Army Corps in both the Eastern and Western Theaters including Burnside's Expedition (North Carolina), Second Bull Run, South Mountain, Antietam, Fredericksburg, Vicksburg, Knoxville, Wilderness, Spotsylvania, Cold Harbor and Petersburg (Crater and Fort Stedman). In May 1864, he was promoted to brigadier general and in March 1865 he was brevetted a major general by General Grant. In late April 1865, he was appointed Special Provost Marshal and Commander of Troops at the Old Military Prison, Washington, D.C., by President Johnson. In this capacity, he oversaw the imprisonment of all eight individuals charged in the Lincoln assassination conspiracy trial and on July 7, 1865, he oversaw the hanging of four of them. From 1866-1872, he served as Pennsylvania State Auditor General, and from 1873-1879, he served as Governor of Pennsylvania during which time he organized the Pennsylvania National Guard. Hartranft died in October 1889 at the age of 58.
Mark Grim
Mark D. Grim, Jr., of Biglerville, Pennsylvania, is a retired Colonel, U.S. Marine Corps, with over 25 years of service and also a retired Pennsylvania attorney.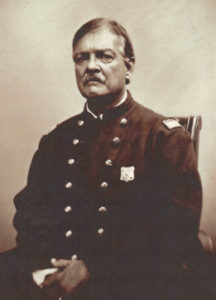 He is a graduate of Ursinus College, Widener University School of Law, U.S. Marine Corps Command & Staff College and the U.S. Army War College.  He is descended from a Civil War veteran, his Great Uncle, Corporal Andrew J. Grim, who served in Company C, 51st P.V.I., from September 1861-May 1864 when he was wounded (second time) at Spotsylvania Courthouse.  On June 6, 1864, he died as a result of those wounds.
Mark Grim can be contacted at [email protected].