Edward D. Townsend was born on August 22, 1817, and went on to become Adjutant General of the United States Army from 1869 to 1880.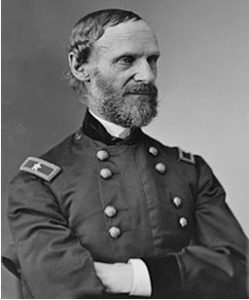 The grandson of Vice President Elbridge Gerry, Townsend was educated at Boston's Latin School before graduating from the United States Military Academy in 1837, ranked 16th in a class of 50 cadets. He was commissioned a 2nd Lieutenant the 2nd U. S. Artillery and served as that regiment's adjutant and participated in the Second Seminole War and the relocation of the Cherokee.
In 1846 he was transferred to the Adjutant General's Corps and assigned to duty in Washington, D.C.  Following a posting on the Pacific coast, he returned to Washington in 1861, serving under Adjutant General Lorenzo Thomas until March 7, 1861 when he became Lt. General Winfield Scott's Chief Of Staff.  During the Civil War, Townsend was the acting Adjutant General of The Army. As the principal executive officer of the War Department, working closely with President Abraham Lincoln and Secretary of War Edwin M. Stanton, it was under Townsends' signature that orders originated from the War Department. For example, when Major General George McClellan got the "hook" on November 5, 1862, the removal from command letter, General Orders #182, was signed by Townsend as the Assistant Adjutant General. Edward was also the individual who initiated the gathering of papers for the Official Records of the War.
Townsend was brevetted a Brigadier General on September 24, 1864, then as Major General in March 1865 for "faithful, meritorious, and distinguished services" in the Adjutant Generals Department during the rebellion." After being promoted to Adjutant General of the Army in February 1869, Townsend organized plans for a U.S. military prison, urging legislation on the subject and establishing the prison at Fort Leavenworth, Kansas.
He retired from the Army in 1880. He died on May 10, 1893 in Washington after an accidental shock from a cable car, and is buried at Rock Creek Cemetery in Washington, DC.
Robert Lipshutz
Bob, a lawyer in Philadelphia and long time Civil War buff, resides in Wynnewood, PA.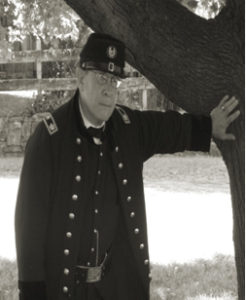 He, and his wife, Laurel, who portrays Union Contract Surgeon and Medal of Honor recipient, Dr. Mary Walker, have been active members in COUG since 2011.
Robert Lipshutz can be contacted at [email protected].