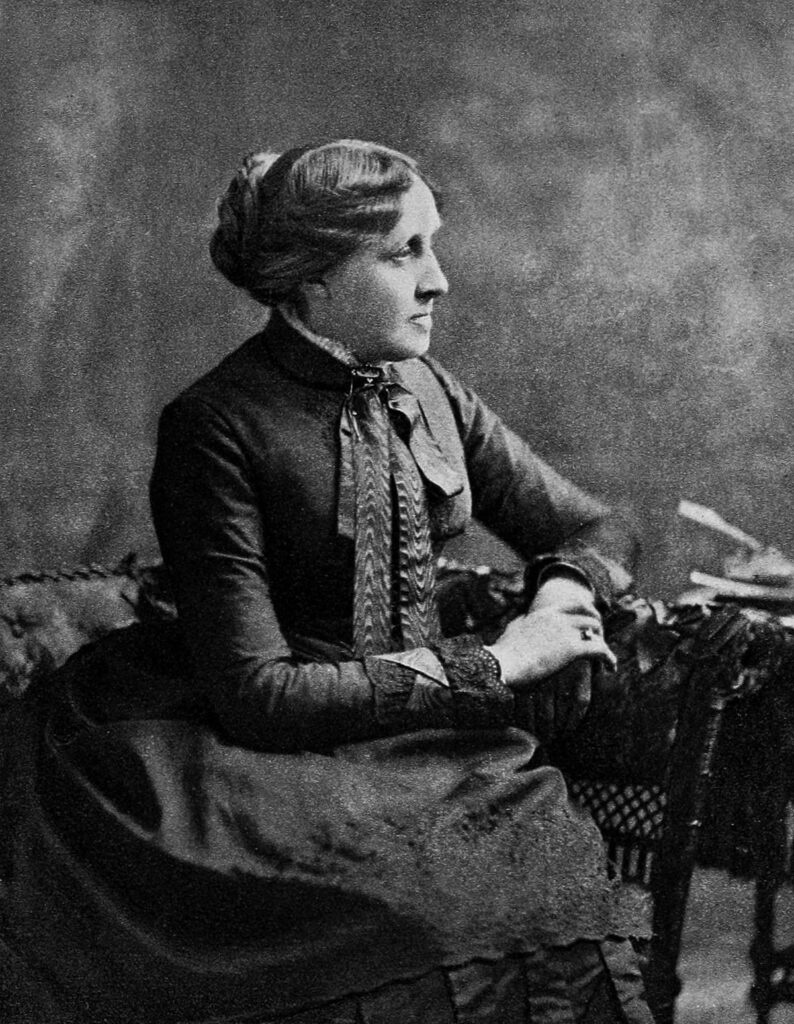 Louisa May Alcott (November 29, 1832 – March 6, 1888) was an American novelist best known as the author of the novel Little Women and its sequels Little Men and Jo's Boys.
Louisa was born in Germantown, which is now part of Philadelphia, Pennsylvania, on her father's 33rd birthday. She was the daughter of transcendentalist and educator Amos Bronson Alcott and social worker Abby May and the second of four daughters: Anna Bronson Alcott was the eldest; Elizabeth Sewall Alcott and Abigail May Alcott were the two youngest. The family moved to Boston in 1838, where Alcott's father established an experimental school and joined the Transcendental Club with Ralph Waldo Emerson and Henry David Thoreau. Bronson Alcott's opinions on education and tough views on child-rearing shaped Louisa's mind with a desire to achieve perfection, a goal of the transcendentalists. His attitudes towards her occasionally wild and independent behavior, and his inability to provide for his family, sometimes created conflict between Bronson Alcott and his wife and daughters.
Louisa's early education included lessons from the naturalist Henry David Thoreau, but she received the majority of her schooling from her father, who was strict and believed in "the sweetness of self-denial". She also received some instruction from writers and educators such as Ralph Waldo Emerson, Nathaniel Hawthorne, and Margaret Fuller, all of whom were family friends. She later described these early years in a newspaper sketch entitled "Transcendental Wild Oats". The sketch was reprinted in the volume Silver Pitchers (1876), which relates the family's experiment in "plain living and high thinking" at "Fruitlands", a utopian agrarian commune her father established in Harvard, Massachusetts.
Poverty made it necessary for Alcott to go to work at an early age as a teacher, seamstress, governess, domestic helper, and writer. Her sisters also supported the family, working as seamstresses, while their mother took on social work among the Irish immigrants. Her first book was Flower Fables(1849), a selection of tales originally written for Ellen Emerson, daughter of Ralph Waldo Emerson.
As an adult, Alcott was an abolitionist and a feminist. In 1847, she and her family served as station masters on the Underground Railroad, when they housed a fugitive slave for one week. In 1860, Alcott began writing for the Atlantic Monthly. When the American Civil War broke out, she served as a nurse in the Union Hospital at Georgetown, D.C., for six weeks in 1862–1863. Her letters home – revised and published in the Commonwealth and collected as Hospital Sketches (1863, republished with additions in 1869) – brought her first critical recognition for her observations and humor. It was originally written for the Boston anti-slavery paper, "The Commonwealth".
In the mid-1860s, Alcott wrote passionate, fiery novels and sensational stories under the nom de plume A. M. Barnard. She was not recognized as the author of these books until well into the 20th century.
Alcott became even more successful with the publication by the Roberts Brothers of the first part of Little Women: or Meg, Jo, Beth and Amy (1868), a semi-autobiographical account of her childhood with her sisters in Concord, Massachusetts. Part two, or Part Second, also known as Good Wives (1869), followed the March sisters into adulthood and their respective marriages. Little Men (1871) detailed Jo's life at the Plumfield School that she founded with her husband Professor Bhaer at the conclusion of Part Two of Little Women. Jo's Boys (1886) completed the "March Family Saga".
Alcott, who continued to write until her death, suffered chronic health problems in her later years, including vertigo. She and her earliest biographers attributed her illness and death to mercury poisoning. During her American Civil War service, Alcott contracted typhoid fever and was treated with a compound containing mercury. Recent analysis of Alcott's illness, however, suggests that her chronic health problems may have been associated with an autoimmune disease, not acute mercury exposure. Moreover, a late portrait of Alcott shows rashes on her cheeks, which is a characteristic of lupus.
Alcott died at age 55 of a stroke in Boston, on March 6, 1888, two days after her father's death. She is buried in Sleepy Hollow Cemetery in Concord, near Emerson, Hawthorne, and Thoreau, on a hillside now known as "Authors' Ridge".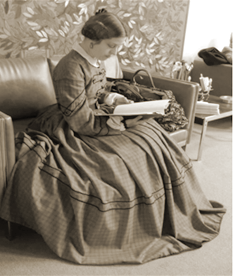 Jennifer Ochman
Jennifer Ochman is a native of the Scranton, Pennsylvania area and attended the University of Scranton, majoring in English and Education. Jenn has been studying, wearing and collecting 19th- and early 20th-century fashion since her teens. She then took her love of 19th-century clothing and transferred it to the hobby of Vintage Dance, where she found she could construct period-correct clothing and then wear it in historic settings, while engaging in dances of the mid-to-late 19th century.
She has been actively involved in Vintage Dance for almost 20 years and has taught and participated in several dance demonstrations for audiences over the years. From her love of history, 19th century clothing, vintage dance and all things historical, she was persuaded by friends to start Civil War reenacting. She was involved with the Union Patriotic League, a Civil War civilian reenacting group, from 2010 until the group disbanded in 2018. While with the group, she camped, gave period cooking demonstrations, and also educational presentations to various groups. When not reenacting, she also works one weekend a month at a local historic (1870s) bed and breakfast, as a public speaker on 19th century topics and has also spoken at local schools and women's clubs.  
She is also involved in a local historical theatrical troupe, which portray famous local Scranton citizens, buried in a large local cemetery. She also researches and narrates fashion shows for various museums, charities and the Lackawanna Historical Society. She is actively involved in the planning of the Lackawanna Historical Society's annual Civil War Ball (scrantoncivilwarday.com), held in Scranton each April and also is on the committee for an Armistice Ball in NJ each November.
Jennifer Ochman can be contacted at [email protected].