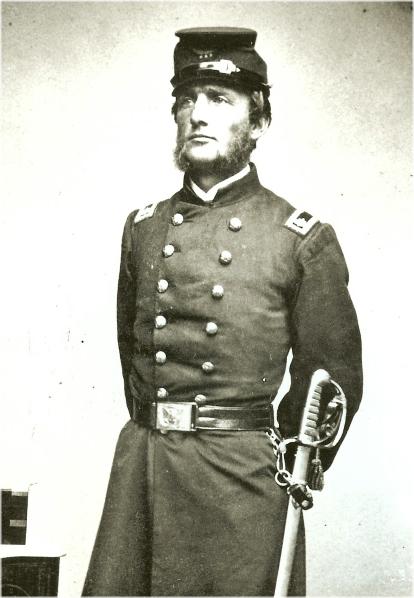 Lucius Fairchild was one of the greatest of what is often reported as the politically appointed officers. Lucius, or as his friends called him "Loosh," was born in what is now known as Kent, Ohio on December 27 1831. I n 1846, the family moved to Wisconsin where he  finished his education at Carroll College in Waukesha,Wisconsin. In March of 1849, at age 17, he went to California as part of the gold rush. In 1855, he returned to Wisconsin a wealthy man. Reports vary as to the amounts and how it was made but it is generally agreed  he made more as a businessman selling food & supplies to the miners than he made digging for gold.
The Fairchild family were Democrats. His father was the first mayor of Madison, the state capital, but when the union was threatened the family became both unionist and Republicans. .
Fairchild began his military career as a member of the Governors guard which became Company "K" of the 1st Wisconsin, a 90 day unit. Here he first fought Thomas Jackson at the Battle of Falling Waters.
When the 1st Wisconsin did not reenlist, he became Lt Colonel and later Colonel of the 2nd Wisconsin of "Iron Brigade" fame.
While with the 2nd Wisconsin, he fought at Gainesville, 2nd Manassas, South Mountain, Antietam, Fredericksburg, Chancellorsville, and Gettysburg. At the Battle of Gettysburg, on the 1st day and only a few yards from where General Reynolds was killed, he was wounded in the arm so badly that the limb had to be amputated.
Although he could no longer lead his men as he had, the people of Wisconsin called on him to serve them in the political arena. He went to President Lincoln and asked his advice.
Lincoln had him appointed a Brigadier General, and this solidified support for his political career. He then served as Wisconsin Secretary of State, followed by 3 terms as Governor. As Governor, he championed public education, expansion of railroads, improvements to canals, and support of veterans. Subsequently, he served as Consul to Liverpool; Council General to Paris, and U.S Minister to Spain
Mr. Fairchild was also very active in the GAR. When President Grover Cleveland called for the return of captured Southern Battle flags to their state of origin, Fairchild, as Commander in Chief of the GAR, protested by saying, "May God palsy the hand that wrote that order; may God palsy the brain that conceived it; and may God palsy the tongue that dictated it." Thus spoke the impassioned, one armed hero of the Battle of Gettysburg. He died May 23, 1896 in Madison, Wisconsin.
Steve Thompson
Steve Thompson was born and raised in Burlington, a small farm town in southern Wisconsin.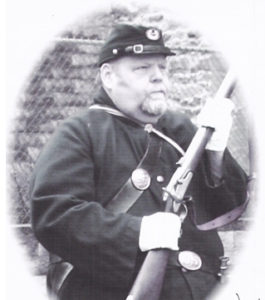 After attending University of Wisconsin Oshkosh, he taught students with emotional problems for 30 years. In addition to teaching, he also coached Speech and became active in civil war reenacting. He is also spoken of as a retired NFL coach, although in this case it stands for the National Forensic League and not that other organization. He reenacted with the 2nd Wisconsin for many years, a group that portrays the regiment that saved Gettysburg.
After retiring in Wisconsin, he moved to Pennsylvania and joined his wife who had returned to the east after six years of living in the solitude of the upper plains. He then became involved with the SUV; the Delany Delacey Guard; and eventually COUG.