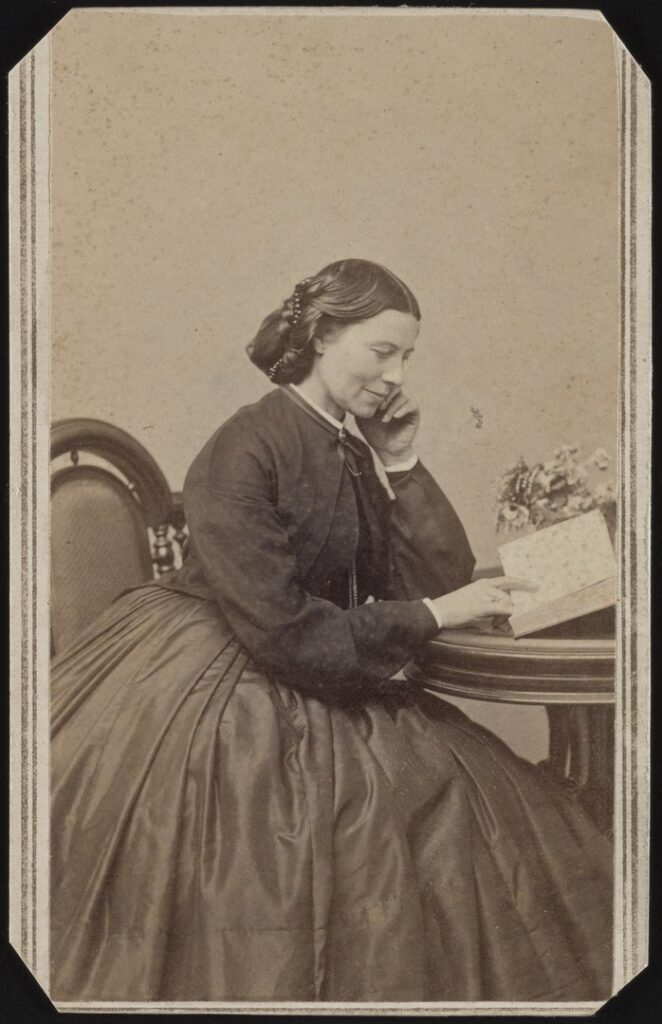 A BICENTENNIAL ESSAY ON CLARA BARTON
By Carolyn Ivanoff
Dr. Henry Bellows, the former president of the United States Sanitary Commission during the Civil War was well respected and well known in 19th century America. Bellows had tried, and failed, to get the United States to ratify the Geneva Convention. In 1882, Clara Barton succeeded where Bellows and other powerful men had failed. Bellows said of Barton, "If she had belonged to the other sex, she would have been a merchant prince, a great general, or a trusted political leader." High praise, but Clara Barton was something much more than anything Bellows suggested she would have been had she been born a man. The legacy Clara Barton left to the world will go on and endure forever.
Today Barton has three museums devoted to her memory. Her birthplace in North Oxford, Massachusetts. The boarding house in Washington, D.C., where she lived throughout the Civil War, and where she founded the Missing Soldiers Office. The founding headquarters of the American Red Cross in Glen Echo, Maryland, is a National Historic Site. She has two national monuments dedicated to her, one on Antietam National Battlefield, commemorating her service on Americas bloodiest day, and one at Andersonville National Cemetery amid the 13,000 dead she helped identify. She was the founder of the American Red Cross, the founder of the American First Aid Association, and a truly great American humanitarian.
Through her work and advocacy in educating the public, senators, and presidents, this woman, who could not even vote, motivated the United States to ratify the Geneva Convention in 1882. She succeeded where powerful men had failed. She became the founder and first president of the American Red Cross and served in that capacity for 23 years, retiring in 1904 at the age of 82. Barton believed that the mission of the Red Cross should not be just a war time relief agency, but a world relief organization. This belief motivated Barton and the American Red Cross to respond to every great disaster in the latter half of the 19th century. In 1884, through her work, the "American Amendment" to the Geneva Treaty was adopted internationally and it transformed the Red Cross from a wartime relief agency into a humanitarian relief agency, in both peace and war, wherever aid was needed, domestically and internationally. Through her work, disaster preparedness, preparedness training, and stock piling of crucial lifesaving supplies are a hallmark in all facets of health and medicine, war and peace. Her belief, that first aid could save more lives than the Red Cross ever could, has made first aid a normal part of our homes, workplaces, educations, and lives. First Aid kits are almost universal and worldwide, thanks to her founding of the American First Aid Association in 1905.
Throughout her long life of service and dedication to others, her personality was large and conflicted. She was insecure and confident, rigid and flexible, frequently at odds with herself. She possessed immense personal magnetism and charismatic charm. She was never convinced of the love or esteem of others and continually sought compliments from friends and praise from the public. She was both bold and shy. She feared rejection but had a powerful sense of her individuality. From childhood she never felt that she fit in. She always felt she was the odd man (or woman) out. She was the embodiment of Walt Whitman's words in Song of Myself, "Do I contradict myself? Very well then, I contradict myself, I am large, I contain multitudes."
One of Barton's most admirable qualities was her ability to motivate powerful men to work with her toward her goals. Her network was an outstanding hallmark of her success. But most admirably, the relationships she cultivated and developed to gain her goals often became friendships, true and treasured, and lasted a lifetime. Mostly the lifetime of others as she outlived almost all of her contemporaries. Present biographers criticize that she sometimes exaggerated or lied about her accomplishments. Why? Certainly, her accomplishments needed no embellishment. But she felt driven by necessity to do this. She lectured to garner public support for her causes. She needed to inspire the powerful and the public to support her. This woman stood on the lecture circuit with many of the giants of her age. Who would criticize Frederick Douglass by saying he exaggerated the evils of slavery to win public support for freedom and civil rights? She did not seek riches. But she pursued fame. She needed it personally, emotionally, and because it was the only bona fide way for her to secure public support for her humanitarian causes. As a woman alone, without a powerful family, without wealth, only through fame could she secure her goals.
Barton's concept of a Missing Soldier's Office was a remarkable one for its time. One of the greatest tragedies of the Civil War were the tens of thousands of soldiers who died unknown. There were tens of thousands of unmarked graves throughout the land. Grieving families were left without any consoling knowledge of their loved one's fates, circumstances of death, or place of burial. Many of the missing simply disappeared. Barton was haunted by this. Without proof that a soldier had died, the government would not pay pensions to widows and orphans. The Army did not notify families in the event of a soldier's death. There was no formal physical form of identification, such as the dog tags that became part of the 20th century military. There was no central graves registration process. Casualty lists were notoriously inaccurate, compiled from company and regimental rolls after a battle. Notification and condolences to families came from company officers or comrades and in mass casualty situations, there might be no one to write home. If burial parties were aware of a man's identity, they tried to mark the place of burial. But the sheer numbers of dead, the time between death and burial on the field, the advances in weaponry, and the damage beyond recognition to the human form–so many men were never identified. In February 1865, Barton wrote to President Abraham Lincoln in pursuit of permission to become an official government correspondent seeking those who had vanished during the conflict. Her office identified almost 23,000 unknown dead. In 1869 When Barton wrote her final report to Congress and the Senate, she concluded it with a plea that Congress make a declaration of death for all soldiers still missing and unknown so their families could finally have closure and could seek financial relief through the pension system.
Today, the Defense POW/MIA Accounting Agency (DPAA) carries on Clara Barton's work for the U.S. military. The mission of the DPAA is to provide the fullest possible accounting for our missing personnel from past conflicts to their families and the nation. Within this mission, they search for missing personnel from World War II, the Korean War, the Vietnam War, the Cold War, the Gulf Wars, and other recent conflicts. DPAA research and operational missions include coordination with hundreds of countries and municipalities around the world to identify our honored dead and to bring them home. Clara Barton would surely applaud this mission as a service of the highest honor.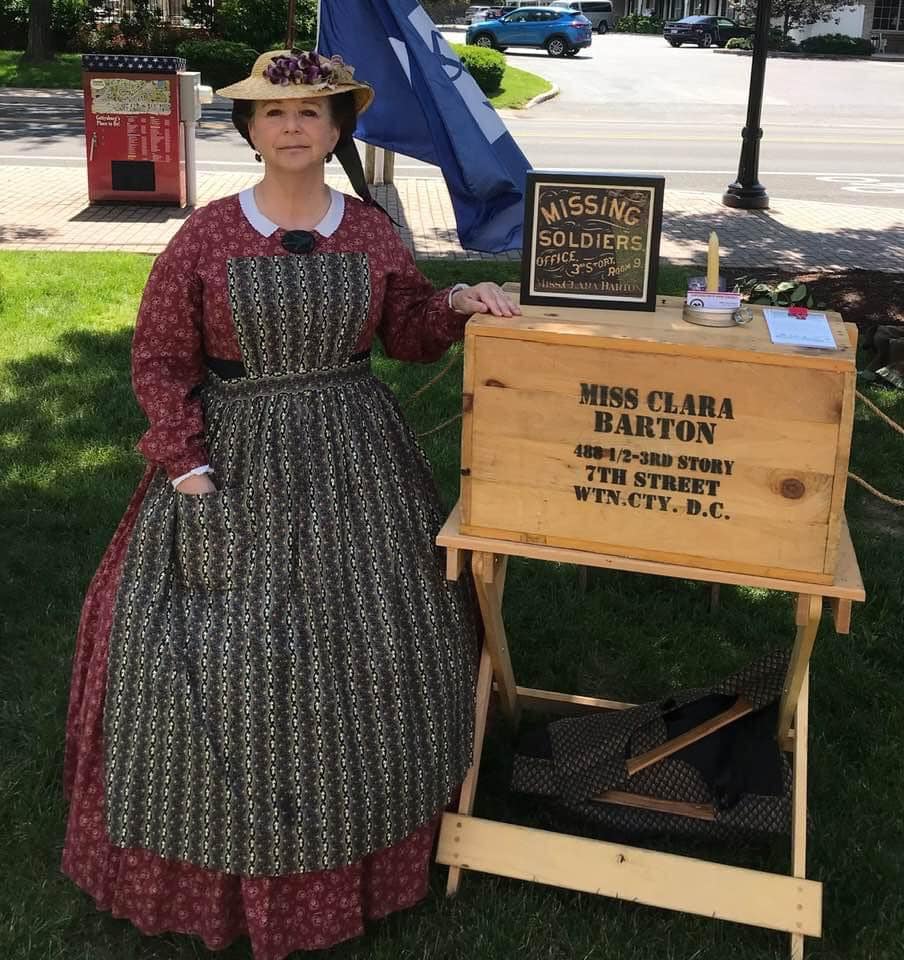 Clara Barton led one of the most remarkable lives in American history. Her humanitarian accomplishments were astounding and are without parallel. More importantly those accomplishments continue to the present. I believe we can be very sure, that even as we recognize the bicentennial of this woman, her life's work and her legacy will continue into the next two hundred years and beyond.