Lysander Cutler was born in Massachusetts in 1807. He became an early settler of Wisconsin, and at the beginning of the Civil War he offered his services to the government, being appointed colonel of the 6th Wisconsin Infantry on July 16, 1861.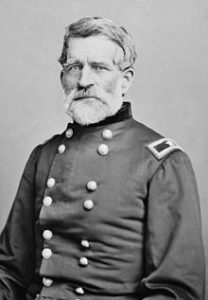 He speedily brought this regiment into a state of discipline and rendered it one of the best in the service. He was afterwards in command of the famous "Iron Brigade," (Meredith's), of the Army of the Potomac, to which his regiment was attached, and on Nov. 29, 1862, was commissioned Brigadier General. He was brevetted Major General of volunteers on Aug. 19, 1864, for meritorious services, and resigned from the Army, June 30, 1865, leaving the service with scars of two wounds upon his body. He died in Milwaukee, Wisconsin on July 30, 1866.
Bill Tice
Bill is a retired carpenter with 40 years of experience and is the owner of "Civil War Furniture by Bill Tice."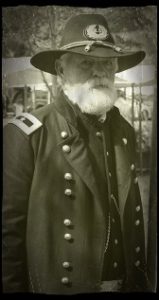 As well as being a member of Confederation of Union Generals (COUG) as Brigadier General Lysander Cutler, he is also a member of the 23rd USCT as Captain Robert Beacham, and a member of Civil War Civilians of Spotsylvania County as Robert Dabney.  He lives in Mine Run, Virginia and is married to Barbara Tice. He is a veteran of the United States Navy.
Bill may be reached at [email protected].