John Buford was born March 4, 1826, in Woodford county, Kentucky but as young boy moved with his family to Rock Island, Illinois, in 1834. His father was a slave owner, prominent Democratic politician and an antagonist of Abraham Lincoln.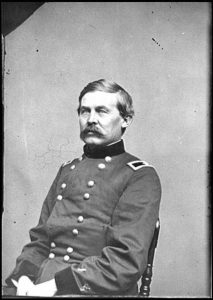 The Buford family had a long military tradition. His grandfather served in the Cavalry during the Revolutionary War under Henry "Light-Horse Harry" Lee (father of General Robert E. Lee). His great uncle also served in a Virginia regiment. John's older half-brother served as Major General in the Union Army and his cousin Abraham served as Brigadier General in the Confederate Cavalry.
John Buford graduated West Point in the middle of his class of 1848. Upon graduation he was commissioned a brevet 2nd Lieutenant in the 1st U.S. Dragoons and later the 2nd U.S. Dragoons. He served in various stations including Texas, in the Sioux Indian Wars, peace keeping duty in Kansas and in the Utah War in 1858. He was stationed at Fort Crittenden, Utah, in 1861 when the war broke out. Being a native Kentuckian and from a slave-owning family, he had to choose between the Union and Confederacy. His close friend John Gibbon, from North Carolina, faced the same dilemma. When Buford told Gibbon that he received a letter from the Governor of Kentucky offering him any rank or position he wanted in the Confederate army, Gibbon, with great anxiety asked, "What did you say?" Buford's response was, "I am currently a captain in the United States Army and I intend to remain one."
In December 1861 he was appointed Assistant Inspector General with the rank of Major and in July 1862 was raised to rank of Brigadier General of volunteers. He served under Major General John Pope, as commander of II Corps Cavalry Brigade of the Union Army of Virginia. He fought with distinction at 2nd Bull Run and personally led a charge late in battle when he was wounded. Initial reports were that he had been killed. He chose to skip his funeral and instead returned to active service as Chief of Cavalry to both McClellan and Burnside in the Army of the Potomac. In the Maryland Campaign, Buford was in the battle of South Mountain and Antietam. In early 1863 he was given command of 1st Division, Cavalry Corps of the Army of the Potomac. The Division was intensely engaged at the Battle of Brandy Station and the Battle of Upperville just prior to Gettysburg.
General Buford is credited with selecting the field of battle at Gettysburg. When arriving in Gettysburg on June 30 Buford discovered a large rebel force was in the area and he quickly understood the need to secure the high ground south of town. His skillful deployments west and north of town effectively delayed the Confederate troops for most of the day of July 1, with help from the 1st Corp Infantry under General Reynolds arriving just before mid-day. The delaying action allowed the bulk of the Union army to occupy Cemetery Hill and Cemetery Ridge during the evening and night of July 1.
During the Confederate retreat from Gettysburg, Buford pursued the rebel army to Warrenton, Virginia, with various actions up to and including the Bristoe Station Campaign in October 1863. By December it was obvious he was quite ill, and he was hospitalized at the home of General Stoneman in D.C. In the last hours of his life he was promoted to Major General. His wife, Pattie, was traveling from Rock Island but did not arrive in time to be with him at death. He died at 2 p.m., Dec. 16, 1863, and is buried at West Point. In 1895 a bronze statue of him was dedicated west of Gettysburg on the site of the first day of action.
Mark Leonard
Mark Leonard is a lifetime resident of the Holstein, Iowa, area and a graduate of Iowa State University in Animal Science with additional studies in genetics.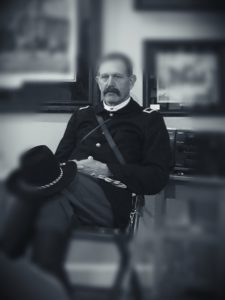 He is a rancher by nature and a banker professionally. With perhaps the oldest continually active purebred Limousin cattle breeding operation in the U.S., Leonard Limousin has sold breeding stock to cattlemen in more than 40 states and 20 countries. His interest in the American Civil War began at an early age when he was given a set of Marx toy Civil War soldiers as a Christmas present at age 6. With a lifetime of study and admiration for the men who fought for a cause they believed in – on both sides of the conflict – he has joined COUG to share that admiration with others. Mark and his wife, Sheryl, are the parents of five grown children and grandparents to 12 (so far) grandchildren. As each grandchild turns 10 years old, he or she gets to accompany Papa and Nana to Gettysburg for the anniversary of the battle.
AgCom Financial Services is an agricultural and commercial lending institution owned by Mark and the companion company AgCom Insurance Agency is managed by Sheryl. Both have been active politically and testified at Senate hearings regarding agriculture and economic policy. Mark served on the national policy advisory committee for President George H.W. Bush. Mark and Sheryl have hosted many presidential candidates in their home. The Leonard family has a long history of dedicated service to the nation with roots in America dating back to the Mayflower passengers, and the American Revolution. A Son of the American Revolution, Mark was named the youngest Eagle Scout ever in Iowa in 1969 and also earned the Pro Deo et Patria, Lutheran Scouting award.
Mark may be contacted at [email protected].